Friends of mine have been asking me… "Juno," they say, "How is it you know Mama Micki? And what's so special about her cookies?" Aside from the obvious reason that it's always a good time to eat cookies and to give them as gifts especially to a famished doggie here are a few things you might want to know about Mama Micki's and her famous cookies.
A. They are delicious!
B. They are made with all natural ingredients. Nothing artificial and no refined sugars!
C. They are locally made in by Micki herself in Scituate Ma.
D. Mama Micki's makes vegan and non-vegan cookies.
E. They also make doggie cookies of several varieties… ~faint~
Mama Micki had always dreamed of opening her own bakery. One day, when her sons were teenagers her husband said to her,  "you never opened that bakery – it's time". That was about 10 years ago. She opened it and loved it. Then, about 5 years ago life events forced Micki to close her business. Over the years Micki had been steadily losing her hearing and the time had come for a cochlear implant in an attempt to restore her hearing. During this difficult time her Mom had also become ill and it was up to Micki to care for her. And then one day she suddenly had what she called her "mid-life epiphany"! Being tired and overweight and feeling terribly unhealthy all of the time Micki realized that she just wasn't taking good care of herself.This ah ha moment for her helped her to change her diet and give up refined sugars and all artificial ingredients. And while the implants did nothing to help her hearing about three weeks after switching her diet something amazing began to happen. Her hearing began to improve dramatically. We've all heard the saying, you are what you eat and here is living proof that switching up your diet can have a huge impact on your overall well being. Since that time Micki has committed herself to a new lifestyle and about one year ago was able to reopen Mama Micki's an all natural and organic bakery. The bakery offers both vegan and non vegan choices and since Micki does all of the baking herself you can be assured that vegan and non-vegan cookies are baked on different days assuring no cross contamination with animal ingredients. The vegan cookies are certified by Vegan Action. On a typical day Micki can bake up to 40 dozen cookies. She is a hands on owner and does most of the work herself from the baking to packaging, label making and sealing. She also conducts her experimental new recipes in her kitchen with her husband and their doggie. (Did I mention that Micki also makes doggie cookies? ~faint~)
Micki's strong commitment to her own wellbeing has spilled over into her bakery as her philosophy is that chemicals and additives have no place in our food system. Her products are all baked with only the finest ingredients free from harmful chemicals, pesticides, GMO's (Genetically modified organisms) or preservatives. In fact Mama Micki's has applied for their organic certification with the hopes of gaining that approval by the end of summer 2012.
Mama Micki's All Natural Bakery also believes in giving back. Most recently they participated in the Fishkill Cares for Cats event donating a basket full of cookies! During World Laboratory Animal Liberation Week Mama Micki's offered my friends a 10% discount and also included a 10% sponsorship to the Juno Humane Education Program which helps to offset my expenses as I travel to help educate people about animal testing and the small steps each of us can make to help bring about an end to this inhumane practice. With all that said I think this smallish doggie can safely say that biting into a Mama Micki cookie just might be the highlight of your day! Good for you, your family and the Juno Humane Education Program. Thank you Micki for loving the animals that much.
Luv n Wags,
Juno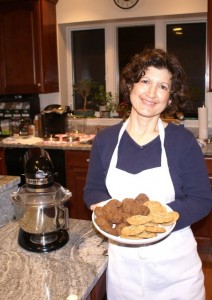 Mama Micki in her kitchen – April 2012